Working with female students in a therapeutic wilderness setting is something that New Vision Wilderness (NVW) has prided itself in doing since 2007. With programs in both Wisconsin and Bend, OR, NVW runs multiple teenage girls' groups at all times. Ages range from 13-17 years old, and we love seeing the improved mental and physical health changes that take place for our Women of the Wild.
Lacey Heinzelman, WI Lead Girls Therapist, says, "Female students who go through NVW leave the program more empowered, confident, more emotionally regulated, and able to build and maintain healthier relationships. One of my specialties and joys is not only to help students build these skills and character traits, but also to help rebuild the entire family system." One of Lacey's parents had this to say about her, "Lacey was a great therapist and communicator, lots of energy, lots of info, felt really filled in on how our daughter was doing."
NVW specializes in treating trauma and distress, which can often be the catalyst for a multitude of behaviors and symptoms. Often times, our students' trauma is complicated through attachment struggles from adoption, missing parental figures, neglect, or a number of adverse childhood experiences. When asked about the importance of female specific groups in the wilderness, Drew Hornbeck, NVW President and Co-Founder said, "Our girls hike, camp, participate in therapy and academics, play games, and live safely as a group of young women in the wilderness; this fosters a stronger sense of wholeness and purpose for the group and self." He followed up by saying, "As the father of two girls, I am highly committed to the quality and integrity of a young woman's experience at NVW. "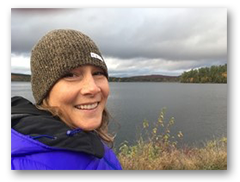 In Bend, OR, Lead Girls Therapist, Xela Goodman, talked about her long history of working with girls in the wilderness, "You always have to be on with the girls, come with a whole bag full of skills, and then they usually take you where you need to go with them. I feel like I can be more creative and out of the box when working with girls, bringing in tons of art, music, play therapy, performing arts therapy, crafts, and other tools for treatment." A recent parent had this to say about Xela, "Xela's awesome! Great personality, kind, knows her stuff, good communicator, good sense of humor."
More about Lacey and Xela
WI – Lacey Heinzelman, LPC, LMFT
Lead Wilderness Therapist – Wisconsin
Lacey operates from a strengths-based, family systems model of therapy. In her off time, she enjoys being active in nature, reading, watching Packer football games, and being near any kind of body of water, all with her dog Phil. Lacey is certified in both Brainspotting Phase I and Trauma Center Trauma Sensitive Yoga (TCTSY).
Lacey earned her Master of Marriage and Family Therapy Degree from Abilene Christian University.
After graduating with high honors, Lacey earned the Texas Association of Marriage and Family Therapy Student Achievement Award. This award is only presented to one marriage and family therapy student in the entire state of Texas and recognizes excellence in counseling. Lacey has previously worked as an outpatient therapist for adolescents, couples, families, and individuals.
OR – Xela Goodman, LCSW
Lead Wilderness Therapist – Oregon
After obtaining her Bachelors Degree Xela served in the Peace Corps for nearly three years in South Africa. It was in this foreign environment where she fully understood and embraced her passion for being of service to others.
Upon returning to the States, Xela started her work in wilderness therapy as a field instructor, where she spent several years helping to invite change in adolescents.
Xela earned her Master of Clinical Social Work Degree, with high honors, from Arizona State University.
Spanning over a decade, Xela has worked at several wilderness therapy programs and therapeutic boarding schools.
Xela has a natural affinity for relationship-based work with adolescents.
Xela is certified in both Brainspotting Phase I and Trauma Center Trauma Sensitive Yoga (TCTSY).